Start your transformation with Svāsthya
Improve your health and meet your weight goals through diet & exercise coaching. Get in touch with us to know more.
CHECK YOUR HEALTH SCORE
Who We Are
Svasthya is a consulting firm regarding health and wellness which provides personalized nutrition and weight loss programs according to your concern.

Our goal is to provide adequate health and improve the quality of life. We understand our client's issues and plan their diet accordingly. We are a team of expert dietician, nutritionist and fitness trainers to provide you an impactful life.

So whether you are planning to lose weight quickly or manage to lose weight according to your health we have the right program for you.

Our services are work out programs, support groups, diet plans and healthy lifestyle advice.
What We Offer
Svasthya offers scientifically proven health and fitness strategies and one to one coaching to achieve your goals.
Meal insights
We will keep you updated with healthy recipes and track your meals to ensure a balanced diet.
Healthy recipes
You will be provided recipes that suit your lifestyle and can browse for the same to get your meals better.
Medical condition and management
You can manage medical conditions like PCOS, diabetes, high cholesterol, hypertension or hypothyroidism while maintaining your diet.
Personal coaches and nutritionist
To ensure you achieve your fitness goals, there will be personal coaches and nutritionists to guide you in your meals and diet plans.
Workout sessions
You will be guided with workout tips in addition to your diet plans to ensure you achieve your goals.
Guide you to Superfoods
To boost your healthy diet we will guide you towards superfoods which will suit your body
It's the time to achieve your fitness goal.
10,000+ active people have found their reasons and reached out to Svasthya.
Users
Rated
Kg Weight Lost
Recipes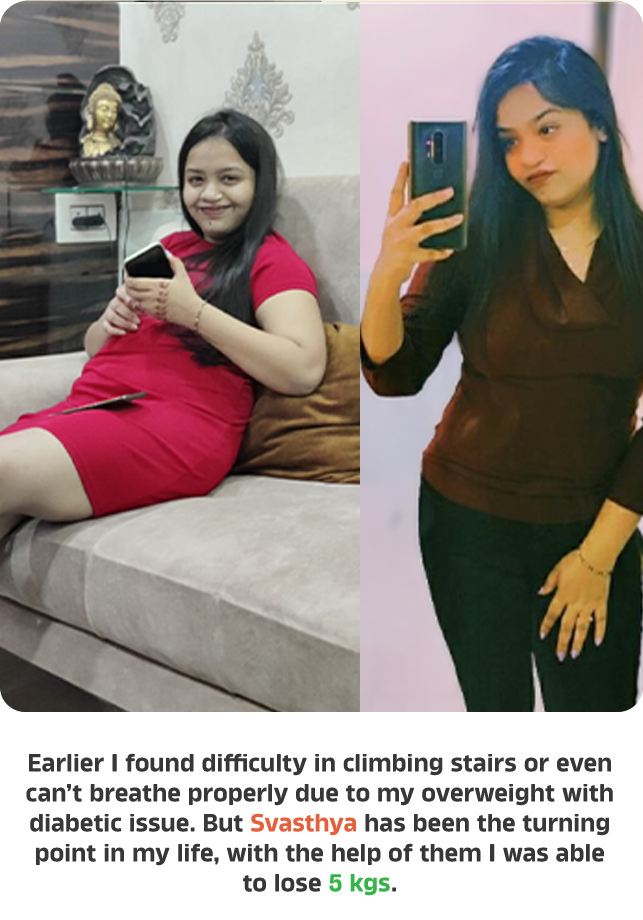 Preeti Singh
Svasthya helped me to lose weight from 75 kgs to 70 kgs
with diabetes reversal.
"Preparing home-based food was a task to me but Svasthya provided me with healthy recipes to maintain my weight problem"..
Frequently Asked Questions
Got doubts? These might help.
How is your diet program different from other programs?
Is your dietician qualified enough?
How Does Online Nutrition and Training Consultation Work?
How do I connect with my Dietician?
How will my dietician help me achieve my goal?
Is it mandatory to go to the gym and exercise or I can lose weight even without exercise?
After completing my program, will I gain back the weight?
How will I get my Diet chart routine?
What is the cost of Svasthya Packages?
How much weight can I lose / How much muscle mass can I gain after enrolling with Svasthya?
I have some medical conditions. Will those be taken care of as part of my Fitness & Nutrition Package?
Should I get a refund if I am not satisfied with my Svasthya Coach?